Details about this IPIA member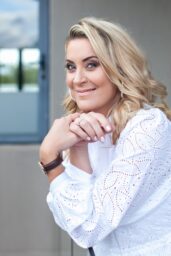 Aletté Winckler
Short Biography Aletté-Johanni Winckler is no stranger to the style and fashion industry. Over the past 10 years, her name and face have appeared multiple times on television, social media, in magazines as well as books. As a published author, motivational speaker, songwriter, television presenter, style consultant, wife to celebrity pop singer and worship artist Heinz Winckler, CEO of the SA Image Academy, and mother of three busy boys and a baby girl, this stylish fashionista has proven herself to be a trend setting entrepreneur. This Journalism graduate's fashion career officially kicked off in 2009 when she enrolled in a course at the then internationally acclaimed South African Image Company. Here she mastered the ins and outs of Style Analysis, Colour Analysis, Fashion Styling, and much more. But this was not enough for our determined guest speaker. In 2019 Aletté enrolled in the Certification Programme of the Association of Image Consultants International (or AICI)– a global organisation that sets and promotes the highest professional standards for image consultants in appearance, behaviour and communications. She did indeed receive her accreditation, making her the very first AICI Certified Image Consultant Trainer in South Africa!
Email Address thebosslady@saimage.co.za
Level Individual
Address 13 Hanepoot Avenue
Die Wingerd
Somerset West, WC 7137
ZA

Phone Number +10726458581
Company/BusinessThe South African Image Academy (PTY) Lt
Qualification/ExperienceInternationally Certified Image Consultant - 12 years Experience in the field. 4 years as an educator.
Categories/Services Image Consulting, Personal Styling, Personal Shopping, Motivational Speaker, Author, Educator
Country South Africa
RegionWestern Cape
Website Addresshttp://www.alettewinckler.com
---
We look forward to hearing from you.
You are welcome to send us any questions or comments that you have and we will do our best to respond as soon as possible.  
Send us your questions or comments