Details about this IPIA member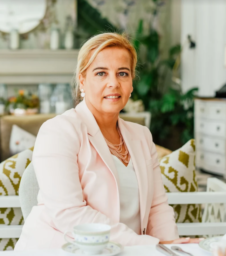 Leisl Hillman
Short Biography Based in the heart of Cape Town, Leisl Hillman is a devoted wife, and active mother of two. She has worked as a fashion buyer for a reputable chain store nation wide, and has traveled extensively in her position for over 15 years. With her knowledgeable background in women's fashion and lifestyle, she has been instrumental in the launch of Ladies Outsizes which still is a huge niche in the market. She was also hand selected by Drum Magazine to present Wardrobe Building Workshops to their readers all over the Country. Leisl has since found a higher calling in helping women understand the importance of knowing what to wear, and how to put outfits together in order to achieve an overall image make over. With a completed qualification through the accredited South African Image Academy, Leisl prides herself in her work, and has a passion and flare for fashion, and her clients. Targeting her market for the every day woman to business executive - A mother, athlete, friend, and successful business woman who understands the importance of not just image and fashion, but affordability which is so important in today's economic climate. Get in touch with Leisl Hillman today to embark on your journey to a fresh, and more confident, great looking, YOU.
Email Address lhimageconsultant@gmail.com
Level Individual
Address 20 Dolabella Drive, Sunset Beach, Milnerton
Cape Town, WC 7100
ZA

Phone Number (082) 378-0841
Company/BusinessLeisl Hillman - Image Consultant
Qualification/ExperienceSaia Accredited in Style and Colour 7 months experience as an Image Consultant. 15years experience as a Fashion Buyer for a SA Retailer
Categories/Services Image Consulting, Personal Styling, Personal Shopping, Motivational Speaker
Country South Africa
RegionWestern Cape
Website Addresshttp://www.leislhillman.com
---
We look forward to hearing from you.
You are welcome to send us any questions or comments that you have and we will do our best to respond as soon as possible.  
Send us your questions or comments