Details about this IPIA member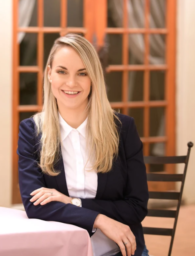 Natalie van Wyk
Short Biography Natalie is a gentle and kind person who loves God and has a passion for helping women of all ages to discover their true identity and value. She has a desire to help women reach their full potential. She strives to cultivate an enriched healthy self-image within each woman she encounters. Natalie is not very talkative but rather listens to the hearts of her clients to gain an understanding of their uniqueness. Her dry sense of humor lightens the atmosphere and creates a relaxed environment for all. Natalie believes that true beauty is not just outwardly perfection but rather beauty which emanates from the inside out, therefore Natalie follows a holistic approach towards her consulting process. Having a certification in exercise science and personal training she is able to assist others in making all round healthier lifestyle choices. If this speaks to your heart as a young girl, lady or mommy why not embark on this journey with Natalie and share in the adventure of becoming who God created you to be. Natalie can assist you by equipping you with the skills and knowledge which she has acquired to transform and renew your image and the way you see yourself. Come and join Natalie for a cup of tea or coffee (whatever you fancy) and let her help you start your transformation journey.
Email Address vanwyknatalie8@gmail.com
Level Individual
Address 971 Veda Ave, Montana Park
Pretoria, GT 0182
ZA

Phone Number (083) 387-1234
Company/BusinessConsultant
Qualification/ExperienceImage Consultant, Personal Trainer, B.Ed. Early Childhood Development/ Foundation Phase
Categories/Services Image Consulting, Personal Training, Weight Loss, Nutrition/Diet/Dietician, Personal Styling, Personal Shopping, Educator
Country South Africa
RegionGauteng
---
We look forward to hearing from you.
You are welcome to send us any questions or comments that you have and we will do our best to respond as soon as possible.  
Send us your questions or comments