Details about this IPIA member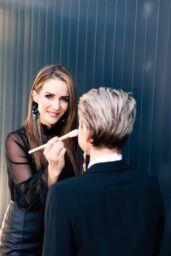 Lizelle De Kock
Short Biography Empowering women to be who they were designed to be in body, soul and spirit. With a background in the beauty industry and as a qualified image consultant, I strive to encourage and inspire women to bring out the best in themselves. Having struggled with a poor self image for years, I can relate to most women on their "issues". Change starts within. We can only find our true identity and purpose in Christ and my mission is to help women discover theirs and embark on a life changing journey in becoming who they were destined to be through the art of beauty.
Email Address lizelledekock1@gmail.com
Level Individual
Address 29 Portabelo
18 Beach bldv
Mossel bay, WC 6550
ZA

Phone Number (061) 639-4941
Company/BusinessImage by Design
Qualification/ExperienceStyle and colour certification Make up artist Nails
Categories/Services Image Consulting, Skin Treatment and Enhancement, Make-up Artist, Personal Styling, Personal Shopping, Motivational Speaker
CountrySouth Africa
RegionWestern Cape
Website Addresshttp://www.lizelledekock.co.za
---
We look forward to hearing from you.
You are welcome to send us any questions or comments that you have and we will do our best to respond as soon as possible.  
Send us your questions or comments