Details about this IPIA member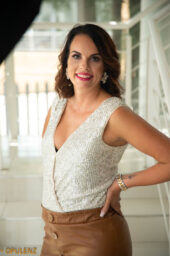 Lizel Van Der Westhuizen - Full Circle
Short Biography Hi I am Lizel Where did it all begin? Well, a few years ago I realised I was stuck in a style and colour rut!! My wardrobe was a mess, and not to mention my clothing budget!! I had always been interested in style and fashion, but had never found that one thing that made my heart beat faster, or should I say UNTIL I discovered Image Consulting! It is my true passion!! After studying with Image Innovators South Africa; an Internationally Accredited Image Company, I qualified as an Image and Style Consultant and am now an accredited member of Image Innovators International. I am also a Makeup artist, passionate about enhancing the natural beauty in others, and I love teaching ladies how to look and feel good. I am the proud owner of Full Circle Image Consulting and Makeup Artistry. My passion for people, combined with my love of fashion, make me a great Image Consultant. As a Professional Image Consultant and Makeup artist, I have a hands-on approach with every client. My aim is to make each and every client feel special and to cultivate their inner beauty, the gentle, gracious kind which God delights in. I would love to assist you in enhancing your inner beauty and finding your own style and colour personality.
Email Address lizel@fullcircleimage.co.za
Level Individual
Address 107 Falcon Street
Montana Estate, Doornpoort
Pretoria, GT 0186
ZA

Phone Number (083) 610-2214
Company/BusinessFull Circle Image
Qualification/ExperienceHigher Diploma Somatology Certified International Makeup Artist Qualified image Consultant
Categories/Services Image Consulting, Make-up Artist, Personal Styling, Personal Shopping, Motivational Speaker, Retailer
Country South Africa
RegionGauteng
Website Addresshttp://www.fullcircleimage.co.za
---
We look forward to hearing from you.
You are welcome to send us any questions or comments that you have and we will do our best to respond as soon as possible.  
Send us your questions or comments